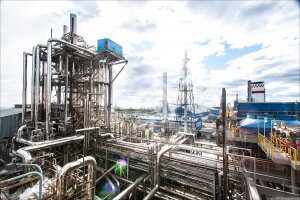 EuroChem has started supplying UTEC®46 nitrogen fertilizer made at its production facilities in Kremenets (Ternopil region) to Hungary and Moldova, the company has reported on its website.
UTEC®46 fertilizer production in Kremenets was started in February 2017. The fertilizer contains inhibitor of nitrogen and does not require soil embedding after applying it.
As reported, in 2017, the Economic Development and Trade Ministry of Ukraine introduced sanctions against some companies of the EuroChem Group due to supplies of ammonia nitrate to the occupied areas of Donbas.
The share of Ukraine of total annual revenue of EuroChem is around 6% (data for 2015).
The EuroChem Group incorporates Russian plants Nevinnomyssky Azot, Novomoskovsk joint-stock company Azot, Fosforit, Belorechensk Mineral Fertilizers and Kovdorskiy GOK, as well as Lifosa phosphorous fertilizer plant in Lithuania and a plant in Belgium EuroChem Antwerpen.
The key shareholder of EuroChem is Andrei Melnichenko, controlling 90% of the group via Cyprus-based AIM Capital SE (earlier EuroChem Group SE). Cyprus-based Midstream Group Limited, which beneficiary is Dmitri Strezhnev, holds 10% of the group.