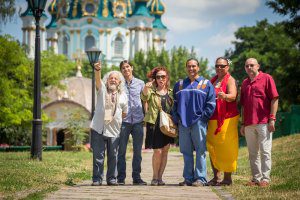 The number of tourists visited Kyiv in 2017 grew by some 21%, the press service of Kyiv City Council has reported, referring to head of the permanent commission for budget, social and economic development Andriy Strannikov.
The press service said that the number of foreign tourists rose by 25%, to 1.6 million people, and the number of domestic tourists – by 18%, to 850,000, which allowed attracting additional funds to the city budget. "The tourist tax amounted to UAH 25 million in 2017. This is a very good indicator, taking into account the fact that in 2016 this figure was UAH 18.8 million. Profits grew by almost a quarter," Strannikov said.
According to the press service, a significant factor in attracting tourists last year was Eurovision song contest.
Kyiv City Council recalled that in 2018 in Kyiv will be the final matches of the UEFA Champions League and the UEFA Women's Champions League 2017/2018. The expected number of tourists is 120,000.
In 2018, Kyiv plans to establish another tourist information center on the European Square, as well as create photo zones with 3D designs of tourism logos at the railway station and near the city hall.