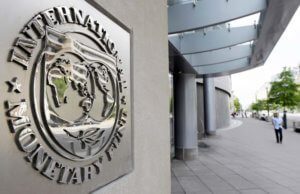 The International Monetary Fund (IMF) continues to insist on the adoption by the Ukrainian authorities of legislation on the Anti-Corruption Court in accordance with the country's obligations under the Extended Fund Facility (EFF) cooperation program.
"Our discussions are ongoing with the Ukrainian authorities. In fact, at the request of the authorities a small staff team from the IMF visited Kyiv to discuss technical aspects of reforms which are supported by the program, including broad discussion on various issues, including draft of the legislation on the anticorruption court. At the conclusion of the visit we issued a statement indicating that further progress needs to be made on delayed measures that are necessary to achieve the program objectives, including in energy sector and fiscal policy as well as I just mentioned Anticorruption efforts," IMF official representative Gerry Rice said during a regular briefing in Washington.
He added, the date of the arrival of the IMF mission to Kyiv as part of the next revision of the EFF program has not yet been determined.
The four-year EFF program launched by the IMF in March 2015, in the total amount of SDR 12.348 billion (around $17.25 billion), initially involved quarterly reviews of the program, with the first tranche of $5 billion, and the next three, SDR 1.18 billion each (around $1.65 billion), to be paid during 2015, and decreasing quarterly tranches to SDR 0.44 billion ($0.61 billion) in 2016-2018. Ukraine was able to receive, with a slight delay, the second tranche, $1.7 billion, under this program, in early August 2015, followed by a lengthy pause because of the country's failure to meet a number of conditions, political crisis and changes in the government.