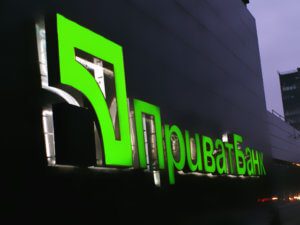 The largest state-owned bank in Ukraine, PrivatBank, saw UAH 3.7 billion of net profit in Q1 2018, which is a 3.3-fold rise year-over-year (UAH 1.108 billion), the bank has said in a press release.
"In the first three months net commission income totaled UAH 3.4 billion… Net interest income came to UAH 3.3 billion. In Q1 2018, the bank earned UAH 6.7 billion of interest income thanks to the expansion of the loan portfolio of individuals by 6% (UAH 2.5 billion) and growth of the portfolio of corporate clients by 18% (UAH 1.1 billion)," the bank said.
As reported, PrivatBank in Ukraine should make profit in 2018 and generate no less than UAH 8 billion of profit starting from 2020, according to the strategy for its development until 2022 approved by the supervisory board of the financial institution.
Nationalized late 2016 PrivatBank in 2017 reduced the consolidated loss to UAH 23.99 billion from UAH 176.64 billion a year earlier.
In total, the bank was capitalized by UAH 155.3 billion through issuance of government bonds.
At the end of June 2017, the Cabinet of Ministers decided to capitalize the bank by another UAH 38.5 billion (almost $1.5 billion) on the basis of the proposals of the NBU and the conclusion of an independent auditor of PrivatBank, EY. The first tranche of UAH 22.5 billion was provided to the bank in July 2017, the second of UAH 16 billion – in December.