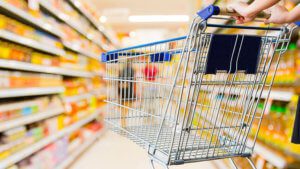 Consumer prices in Ukraine in May 2018 remained unchanged from the previous month, while inflation was 0.8% in April, 1.1% in March, 0.9% in February and 1.5% in January, the State Statistics Service has said. According to the agency, in annual terms (May2018 to May 2017) the rise of consumer prices slowed down to 11.7% from 13.1% in April, 13.2% in March, 14% in February, and 14.1% in January.
Underlying inflation in May 2018 fell to 0.2% from 0.6% in April and 1.4% in March, in annual terms being 9.3%.
The service said that since the beginning of the year consumer prices in Ukraine have increased by 4.4%, while underlying inflation was 3.5%.
In May compared with April 2018 prices for food and non-alcoholic beverages decreased by 0.7%. Prices for eggs and buckwheat fell most of all (by 9.5% and 7.3%). Prices for vegetables, milk and dairy products, sugar, lard, fruits, rice, sunflower oil fell by 2.9-0.5%. At the same time, prices for fish, pasta, bread, and non-alcoholic beverages rose by 0.8-0.5%.
Prices for alcoholic drinks and tobacco products grew by 1.8%, in particular for tobacco products by 2.4%, alcoholic drinks by 1.0%.
The growth of tariffs for housing, water, electricity, gas and other fuels by 0.1% was mainly due to the increase in water supply tariffs by 2.2%, sewerage by 1.8%, and housing maintenance by 1.2%.