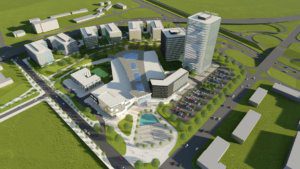 Lviv IT Cluster is about to launch the construction of the first stage of a 10-hectare Innovation District IT Park in Lviv, the press service of Lviv IT Cluster has reported.
"The tech industry has an urgent need for such a large-scale project as the Innovation District IT Park. Even before the construction of the facility, more than 60% of the area has been booked by IT companies," head of the Lviv IT Cluster Supervisory Board and CEO of N-iX Andriy Pavlov has said in the report.
The construction project is estimated at US$160 million.
Volodymyr Zhenchak's Gallery Center Ltd. is the developer and investor of the project, the press service said.
"We see this complex as a new, city-forming center in Lviv, a place for work, meet-ups, creativity, and a venue for family leisure on weekends. Close to it, there will be a 'center of science for children and the youth' and an entertainment promenade connected to Stryisky Park," Zhenchak said.
As reported, the IT Park will occupy 10 hectares between Stryiska, Chmoly, Luhanska and Kozelnytska Streets in Lviv. The construction of the first stage of the IT Park will last about 2.5 years, which will cover about 90% of the entire project, and the first round of investment will reach $95 million. The second stage of the IT Park provides for the construction of business centers and will last about five or six years.
Six eight-storey Class A office buildings, three business centers, a hotel (5,700 square meters, 150-200 rooms), a kindergarten (2,000 square meters), a university (6,000 square meters), a health club, and a parking lot for 3,167 cars are to be built under the project.
SoftServe, N-iX, GlobalLogic, Intellias and Perfectial will be first residents of the Innovation District IT Park. They will occupy about 50,000 square meters of office space. The university block will house a department of Lviv's Ukrainian Catholic University.
In addition, Lviv IT Cluster plans to open modern IT labs there that will be available to IT students of all Lviv-based universities.
Lviv IT Cluster is a community of IT companies in Lviv.