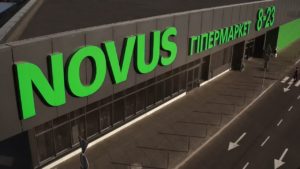 LLC ATB-Invest (Dnipro), part of the ATB group of companies, plans to acquire a retail and office center in Rivne, owned by the Novus retailer, which is part of the Lithuanian group BT Invest. As the Antimonopoly Committee of Ukraine (AMCU) said it plans on February 7 to consider the case of granting permission to ATB-Invest LLC to acquire assets, namely a Rivne-based retail and office center, owned by Novus-Ukraine LLC (Kyiv).
According to the Novus website, its chain as of February 7, 2019, includes two stores in Rivne: at 26 Gagarin Street and at 24 Bohoyavlenska Street.
Novus Ukraine LLC was established in 2008, the same year the first Novus supermarket was opened in the country.
According to the State Register of Legal Entities and Individual Entrepreneurs as of February 7, 2019, Novus Ukraine LLC is wholly owned by CJSC Consul Trade House (Vilnius, Lithuania). The final beneficiaries are Marina Pozniakova, Agnė Ruzgienė, Raimondas Tumėnas.
The charter capital of Novus Ukraine LLC is UAH 634.7 million.
The Novus supermarket chain is developed by BT Invest (Lithuania), which was established in 2008 by former shareholders of Sandora Raimondas Tumėnas and the late Ihor Bezzub.
The ATB chain in 2018 expanded by 80 new and 41 renovated retail outlets, numbering 990 stores in 22 Ukrainian regions.
It posted record high sales in its 25-year history, which amounted to UAH 103.6 billion, including VAT.