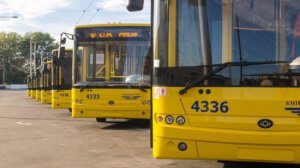 Ukraine under the Ukraine Urban Public Transport Project of the European Investment Bank (EIB) plans to buy 227 buses, 153 trolleybuses, 56 trams and 35 subway wagons in 2019, according to a posting on the website of the Infrastructure Ministry.
"The Infrastructure Ministry together with the Finance Ministry and local governments (11 cities) are implementing the EIB project, which main goals are to implement subprojects in the cities of Ukraine to develop environmentally friendly and socially significant transport," the ministry said.
The project provides for the renewal of the fleet of buses, trolleybuses, trams, metro cars, construction and reconstruction of tram and trolleybus lines, funicular, replacement of traction substations, introduction of modern fare collection systems and information systems using borrowed funds from the EIB and EBRD.
According to the Infrastructure Ministry, in particular, in 2018, under the project 167 trolleybuses were purchased, including 47 units for Odesa, 40 units for Kremenchuk, 23 trolleybuses delivered to Dnipro, 10 to Kremenchuk, and eight – to Kryvy Rih.
Thanks to these purchases, taking into account the trolleybus fleet in these cities as of January 1, 2018, Odesa has now updated its fleet by 28%, Kremenchuk – by 70%, Dnipro – by 17%, Rivne and Kryvy Rih – by 10% each.
As reported, in April 2017, Ukraine's Verkhovna Rada passed a bill ratifying the financial agreement between Ukraine and the EIB under the Ukraine Urban Public Transport Project.
The approximate total cost of the project is EUR 400 million.