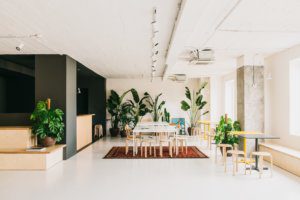 The Hungarian company New Work Serviced Offices on November 16 opened the first co-working space in Ukraine, an object of 960 square meters located on the third floor of the Globus 2 shopping center on the Independence Square in Kyiv.
According to the press service of the trade center, the New Work Labs Globus smart space includes meeting rooms, a conference room for up to 60 people, an event area, skype rooms, a kitchen, recreational islands, and its own coffee bar.
"Residents receive individual access to the space through a mobile application, thanks to the use of the KISI system," the report says.
In addition, co-working residents in the Globus shopping center will be able to work not only in the Kyiv location, but also in Budapest, Warsaw, and Prague. The company currently manages 12 locations in Eastern Europe.
According to the press service, the co-working service offers tariff plans from four hours a day to monthly tariffs with a fixed individual workplace or a private office for the whole team. At the same time, it is possible to work in co-working 24/7.
New Work Labs (Hungary) was established in 2012 and is engaged in the provision of co-working space for the needs of growing companies and individuals.