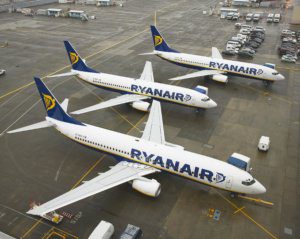 The Irish low cost air carrier Ryanair is considering the possibility of opening its own data center in Ukraine, airline executive director Michael O'Leary has said in an interview with the Ukrainian Travel Gazette. "At a meeting with President [of Ukraine] Petro Poroshenko, we discussed the option of establishing our subsidiaries in Ukraine. In particular, we would be interested in the opportunity to create our own data center here. Now a similar center in Poland has more than 100 Ukrainian employees, and we need to expand the staff. It would be logical to create another such center for the collection and processing of information in the territory of Ukraine and employ here about 250 local IT specialists but not take them to Poland," he said.
In addition, according to the expert, the airline in the long term is also interested in opening a center for aircraft maintenance in Ukraine, for which it is necessary to conduct an examination of the regulation of such activities in our country, including by European bodies.
He also noted that the airline is interested in the employment of Ukrainian pilots and stewards.
"But this is problematic enough, since we are a European airline, and Ukraine is not a member of the European Union. All of your pilots and stewards must verify their licenses under EASA requirements, and this a time consuming process," he said.
At the same time, he noted that citizens of Ukraine already fly in the crews of the airline, and expressed hope their number will increase in future.