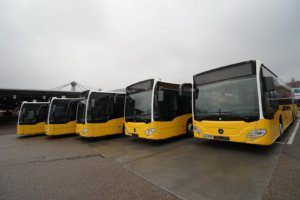 Chinese manufacturer of dual-layer capacitors Shanghai Aowei Technology Development Co. is interested in creating a joint production base for manufacturing electric buses at the Chernihiv Automobile Plant (ChAZ) of the Etalon Corporation, the press service of the Chernihiv City Council has informed. Representatives of the Chinese company met with city mayor of Chernihiv Vladyslav Atroshenko last week, prior to visiting the Chernihiv trolleybus management company for the general condition of the enterprise, trolleybus depot and networks, as well as the Chaz to study its capabilities to create a base for the production of electric buses.
Representatives of the Chinese company noted that they have similar successful experience with Belarus.
According to the message, a representative of the company Hua Lee noted the potential of the ChAZ to create such a base and said that soon negotiations would be held with the management of the plant to make a final decision on joint production. "We did not come here to sell you electric buses; we want to introduce our technologies together with the local manufacturer. We would like to create a production base, as we did it in Belarus," the press service of the City Council quoted Hua Lee as saying.
Atroshenko, in turn, expressed interest in attracting lending from China, including the creation of the necessary infrastructure for electric buses.
Shanghai Aowei Technology Development intends to send a group of designers to Chernihiv in late July and early August to research the existing contact network and the state of public transport, then provide reports and options for resolving these issues in a comprehensive manner. Shanghai Aowei Technology Development is an export-oriented enterprise specializing in the development, manufacture and sale of electric double-layer capacitors and ultra capacitors which was established in 1998. They are used in the construction of electric motors and other electronic equipment for electric buses. It exports its products mainly to Asia.
ChAZ produces buses of various modifications on the chassis of Indian TATA and Ashok Leyland, including school buses. In addition, the plant has established the production of trolleybuses.