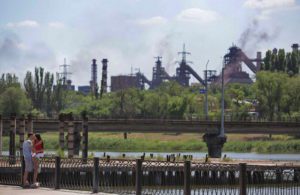 President of Ukraine Volodymyr Zelensky has criticized the Mining and Metallurgical Combine PJSC ArcelorMittal Kryvyi Rih (Dnipropetrovsk region) for failing to fulfill its commitments to improve the environmental situation in the region and urged to provide targeted financial support to people affected by harmful emissions into the atmosphere.
"If this program has been postponed for five years and not agreed with the citizens, I would like to ask you if you can consider some financial compensation for residents of Kryvy Rih, who have suffered for five years, to help them with treatment? I think that the municipality can help us find a list of people who, unfortunately, fell ill with cancer over the years," he said at a meeting on the environmental situation in Kryvy Rih and Dnipropetrovsk region in Kryvy Rih on Friday.
According to Zelensky, over the past five years, an average of 25,000 people have appeared in Kryvy Rih, who have had cancer in one form or another.
ARCELORMITTAL, CRITICIZES, ENVIRONMENTAL POLICY, KRYVY RIH, ZELENSKY