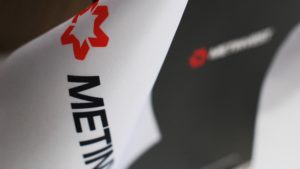 Revenue of Metinvest B.V. (the Netherlands), the parent company of the Metinvest mining and metallurgical group, fell by 7.5% or by $77 million in April compared with the previous month, to $954 million from $1.031 billion.
According to the preliminary unaudited consolidated monthly financial statements of the company, published on Thursday, earnings before interest, taxes, depreciation and amortization (EBITDA) in April was $173 million, which is 6% ($11 million) more than in March of the current year ($184 million).
According to the report, the adjusted EBITDA of the metallurgical division of the group in April 2019 was $53 million ($46 million in March), including $1 million from participation in the joint venture (minus $2 million). The mining division's EBITDA is $151 million ($148 million in March), including from the joint venture – $28 million ($19 million). The expenses of the management company were $2 million ($8 million).
Total revenue in April 2019 consisted of the sales of the metallurgical division in the amount of $791 million ($844 million in March), mining – $305 million ($340 million), and intra-group sales – $142 ($152 million).
The total debt of the company in April increased $72 million compared to March, to $2.754 billion from $2.828 billion. At the same time, cash and its equivalents increased by $113 million, to $331 million from $218 million.