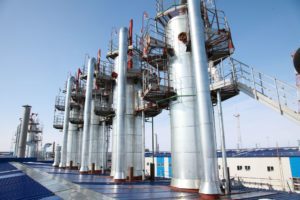 One of the largest private gas production companies in Ukraine – private joint-stock company Ukrnaftoburinnia in January-March 2019 saw a 50% rise in gas production year-over-year, to 166 million cubic meters (mcm), and a 49% rise in oil and condensate production, to 21,000 tonnes, the company's press service has reported.
"The growth of production indicators was linked to significant investment in exploratory drilling in 2018. The wells that were developed last year opened up a number of new deposits, the potential of which turned out to be somewhat higher than our expectations," Head of the geology department Volodymyr Novikov said.
According to the results of 2018, Ukrnaftoburinnia increased natural gas production 38.1% compared to 2017, to 550.28 mcm.
Ukrnaftoburinnia is one of the largest private gas producing companies in Ukraine. Since 2010 it has been developing Sakhalynske oil and gas condensate field (Kharkiv region). The company operates 24 gas condensate, oil and gas wells. In the framework of agreements on joint activities it additionally operates ten gas condensate wells.
According to an information disclosure system of the National Commission for Securities and the Stock Market, the largest shareholders in the company are Deripon Commercial Ltd. (Cyprus) with 44.989%, companies Ares Systems Ltd. and Ariana Business Limited registered at the same address in London with 22.4996% and JKX Ukraine B.V. with 10%. MP Vitaliy Khomutynnik said in August 2016 that he owns Deripon Commercial Ltd. on parity basis with Ihor Kolomoisky.