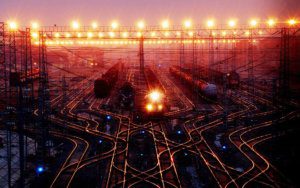 Representatives of large associations of industrial and agroindusitral enterprises of Ukraine have asked the Ukrainian prime minister to solve the problem in the sphere of transportation by rail, in particular, the shortage of gondola cars and rolling stock. The request is outlined in an address posted on the website of the Ukrcement association
"Rail transport provides for about 60% of the total volume of cargo transportation in Ukraine. To ensure efficient operation of enterprises of the leading sectors of the economy of our state, it is the freight transportation by rail that is critical. We are only approaching the period of the peak transportation, and the enterprises are already experiencing an acute shortage of gondola cars. These all restrains development of metallurgical, chemical, cement and agrarian sectors, "the associations said.
The authors of the document said that industrialists and agrarians do not receive the ordered cars in due time and do not have access to those for which they have already paid the rent. The cars are staying idle at cross rail stations, and enterprises continue incurring losses and disrupting the implementation of contracts.
In addition, the associations asked the prime minister to invite representatives of the associations of industrial enterprises and the agroindustrial complex to the government meeting, where the report of the board chairman of PJSC Ukrzaliznytsia will be heard.
The letter was signed by the Federation of Metallurgists of Ukraine, the association of enterprises Ukrmetallurgprom, the Ukrainian Grain Association, the Ukrainian Chemists Union, the Ukrainian Association of Ferroalloys Producers and the Association of Cement Manufacturers Ukrcement.
AGRARIAN, GONDOLA CARS, GOVERNMENT, INDUSTRIAL ASSOCIATIONS, SHORTAGE