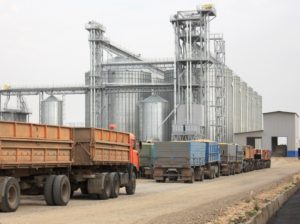 Grain Alliance, a large agricultural producer in Ukraine, intends to increase its elevator capacity by 100,000 tonnes in the coming years, to 350,000 tonnes.
"In the coming years, we plan to add up to 100,000 tonnes to Grain Alliance's capacities. But we will focus on the throughput capacity of the existing facilities. We plan to bring the average figure for the holding to 2.5 circulations at all elevator enterprises in the near future," the company's press service told Interfax-Ukraine.
The company clarified that in 2018 Grain Alliance increased its land bank by 3,000 hectares.
"Our company does not aim to build up the land bank at any cost. We understand well that land is not a goal, but the means of achieving a goal. Accordingly, we are not ready to overpay for land and infrastructure. However, the company is gradually raising its land bank, in particular, due to growth in villages where the holding is doing business," the press service noted.
Grain Alliance cultivates more than 50,000 hectares of agricultural land in Kyiv, Cherkasy, Poltava, Khmelnytsky, and Chernihiv regions.