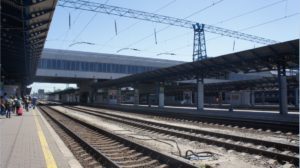 The draft ownership policy of JSC Ukrzaliznytsia does not envisage a possibility of holding an initial public offering (IPO) for the company, Ukrzaliznytsia Director for Strategic Development and Investment Policy Anton Sabolevsky told reporters on the sidelines of the third International Conference "Railways of Ukraine: Developments & Investments" held in Kyiv. "The draft ownership policy, which is now being considered, does not mention the possibility of an IPO. This is not a question of a year or three, it is more distant. It will definitely not be held in the next five years," he said.
According to Sabolevsky, in Europe the only successful transaction for holding an IPO for a part of a cargo carrier was in Poland. "Also, there is an example of Doicebahn, which was bought freight operators in the Netherlands, Denmark and partly in Sweden," he said.
At the same time, according to Sabolevsky, for the next five years, Ukrzaliznytsia needs an additional investment of $6 billion to maintain its assets at current levels.
"If we look at the ratio of capital investment and company revenues, then, to a large extent, we will come to the conclusion that Ukrzaliznytsia must spend about $ 1billion on its capital investment a year. These are the sums which the company announces in its financial plan every year. For example, in 2018, we had a little more than UAH 26 billion of capital investment," he said.