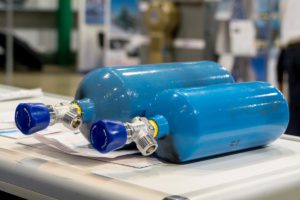 State-owned enterprise (SOE) Zorya-Mashproekt (Mykolaiv) under a request of medical institutions of Mykolaiv city in relation to a threat of spreading the coronavirus disease COVID-19 has resumed production of medical oxygen halted early 2020 over the absence of demand, the press service of the Ukroboronprom state concern, which incorporates the enterprise, said on Friday.
The state concern said that the enterprise has all the necessary equipment for the production of oxygen and for many years provides its own needs with technical oxygen for welding.
Zorya-Mashproekt promptly responded to the request from doctors and invested its own funds in the supply of medical oxygen, since the certification production conditions require the introduction of certain measures to control the quality of medical oxygen. Zorya-Mashproekt can produce more than 50,000 cubic meters of medical oxygen per year, which is the most important for the country in these days. Now, we are looking for equipment for uninterrupted operation," the press service said, citing Director of Zorya-Mashproekt Denys Hordienko.
The company said that in order to use it in the future and ensure uninterrupted operation of the medical oxygen line throughout the entire period of the pandemic, it is necessary to purchase backup equipment.
Currently, tender documents are being prepared for the purchase of a hygrometer, which, according to Ukroboronprom, will cost the company about UAH 200,000. Certification activities for the line are tentatively estimated at a similar amount.