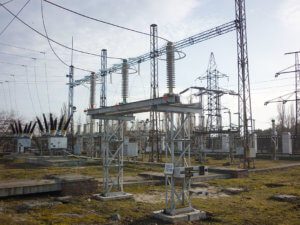 State-owned enterprise Ukrenergo has launched the modernization of the Kryvyi Rih 330 kV substation, the press service of the company has reported. "The works are fulfilled under the contract on technical re-equipment of the Kryvyi Rih 330 kV and Dnipro-Donbas 330 kV substations signed between Ukrenergo, international consortium GE Grid GmbH (Germany) and ChornomoretsEnergoSpetsBudMontazh LLC (Ukraine)," the company said. The project receives financing from a loan granted by the German government under Ukrainian sovereign guarantees.
"All high-voltage equipment, protective relays and automatic equipment will be replaced and an automatic process control system will be introduced during the modernization of the 330 kV switchyard at the substation," Ukrenergo said. As reported, Ukrenergo launched a new 125 MVA auto transformer AT-4 at the Vinnytsia 750 kV substation and a new 125 MVA auto transformer AT-1 at the Poltava 330 kV substation.
Ukrenergo operates trunk and interstate power grids, as well as performs the centralized dispatching of the united energy system in the country. The company is a state-owned enterprise, it is subordinate to the Ministry of Energy and Coal Industry.