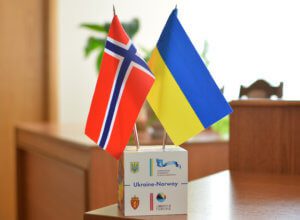 The issues of deepening cooperation in the economic sphere have been discussed in Kyiv by Secretary of State of the Ministry of Foreign Affairs of Norway Audun Halvorsen and Deputy Prime Minister for European and Euro-Atlantic Integration of Ukraine Ivanna Klympush-Tsintsadze. Halvorsen noted that Norwegian investors had positively assessed the development of the business environment in Ukraine and optimistic expectations of investors should be supported by confidence, since the most important characteristic of the country for investment is predictability, the government portal reported on Tuesday.
Several positive business cases are immediately a signal for other investors, the first pave the way for the next, added the Secretary of State of the Ministry of Foreign Affairs of Norway. According to him, Norwegian investors are most interested in the energy sector of Ukraine, in particular, in investing in "green" energy and energy efficiency.
Halvorsen also said that Norway would actively participate in the International Conference on Reforms in Ukraine, which will be held in Copenhagen on June 27, and is also ready to further deepen cooperation with Ukraine in various areas of bilateral relations.
In turn, Klympush-Tsintsadze noted that Norway's support for Ukraine is concrete and practical, and such relations are the basis for further deepening of bilateral relations.
The sides also briefly discussed the visit to Ukraine of Norwegian Foreign Minister Ine Eriksen Soreide planned for the second half of the year, as well as the visit of the newly appointed President of the Norwegian Storting, Tone Wilhelmensen Troen, scheduled for September.