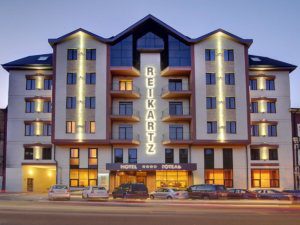 Reikartz Hotel Management LLC (Kyiv), a managing company of the Reikartz Hotel Group, has signed a contract to manage a first hotel in Yaremche (Ivano-Frankivsk region), Stanislavsky Hotel, which entered the chain under the Vita Park brand.
"The resort hotel Stanislavsky entered the network under the brand Vita Park, and from November 1, begins work under the name of VitaPark Stanislavsky Yaremche," Reikartz said on its website.
Reikartz Hotel Group Operating Director Andriy Dema said that the complex infrastructure includes 54 rooms of various categories. He also said that by the middle of 2019, the second building with 130 rooms will be open.
Reikartz started its activity in the sphere of hotel services in Ukraine in 2003 after a group of Belgian architects, led by Francois Ryckaerts, had bought an old mansion in Drukarska Street in the center of Lviv.
Reikartz Hotel Group unites 37 hotels in Ukraine, two in Sweden and three in Germany.