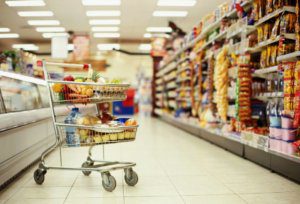 Ukraine's retail trade turnover, excluding the temporarily occupied territory of Crimea and Sevastopol, as well as Donbas, in January-May 2018 increased by 6.1% in comparable prices in comparison with January-May 2017, the State Statistics Service has said.
According to its data, in May 2018 compared to April of the current year retail trade turnover increased by 2.7%, compared to May 2017 it grew by 5.2%.
The highest growth in retail trade turnover in January-May 2018 compared to the same period in 2017 was observed in Luhansk (24.6%), Poltava (10.2%), Vinnytsia (9.8%), Donetsk (9.7%), Kyiv (8.7%), Zakarpattia (8.6%) and Ternopil (8.5%) regions.
In nominal terms, retail trade turnover for January-May of this year amounted to UAH 283.309 billion.
The leaders in terms of absolute indicators of retail trade turnover for the reporting period were Kyiv city (UAH 69.926 billion), Dnipropetrovsk (UAH 32.556 billion), Kharkiv (UAH 28.172 billion), Odesa (UAH 25.65 billion), Kyiv (UAH 24.646 billion), Lviv (UAH 21.788 billion), and Zaporizhia regions (UAH 14.902 billion).
According to statistics, retail trade turnover in Donetsk region in January-May 2018 in comparison with January-April 2017 increased by 9.7% (to UAH 10.555 billion), Luhansk region by 24.6% (to UAH 3.104 billion).
The service said the turnover of retail trade enterprises in May 2018 compared to May 2017 increased by 4.9%, and compared to April 2018 by 2.3%, amounting to UAH 54.294 billion.
The wholesale turnover of enterprises for the first five months of 2018 rose by 4.8% compared to the corresponding period in 2017, to UAH 846.382 billion.
As reported, retail trade turnover in Ukraine in 2017 grew by 8.8% and amounted to UAH 816.554 billion.