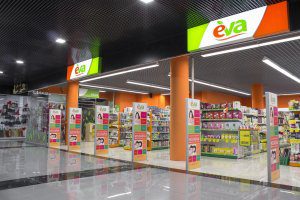 RUSH LLC (Dnipro), the owner of the Eva drogerie store chain in Ukraine, expanded its chain by 168 stores in 2017, to 610 outlets in different cities and towns.
The company said in a press release that in December 2017, the company opened five new stores in central Ukraine, six in eastern Ukraine and five each in south and west of Ukraine. The total retail area of the chain reached over 88,000 square meters.
As reported, in November 2017, Eva launched an online shop. Buyers can use Nova Poshta delivery company to receive the goods from the online shop.
RUSH LLC was founded in 2002. The retailer has 33 house brands presented in the chain. In 2008, Nometros Investments Ltd. (Cyprus) acquired 100% of RUSH LLC. According to the unified register of companies, as of January 16, 2018, the ultimate beneficiaries of the company are Ukrainian businessmen Ruslan Shostak and Valeriy Kiptyk.