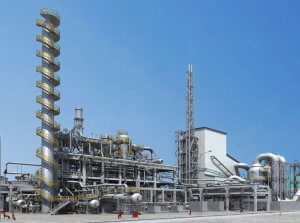 Public joint-stock company Odesa Port-Side Plant until July 12, 2018 accept applications for selecting a new partner for processing gas into mineral fertilizers on a tolling basis. "We invite interested companies to send their bids, meeting the mandatory conditions regarding the processing of tolling natural gas at the plant until 16:00 Kyiv time on July 12, 2018," the enterprise said on its website.
First Deputy Director Mykola Schurikov said that if it is necessary to conduct preliminary negotiations, it is possible to organize working meetings with the management of the enterprise.
As reported, All-Ukrainian Energy Company won a tender to use the facilities of Odesa Port-Side Plant for processing gas into mineral fertilizers on a tolling basis in December 2017.
However, on April 30, 2018, the plant was stopped, as the company violated the contract with Ukrtransgaz.
Schurikov said that the plant in two months of cooperation with All-Ukrainian Energy Company received over UAH 140 million and saw no losses.
Odesa Port-Side Plant refers to work on a tolling basis as the only possible option for resuming its operation in the conditions of a failure of privatization attempts and accumulated debt for gas to Naftogaz Ukrainy, which exceed UAH 1.5 billion.
The State Property Fund this week announced a tender to select an adviser for another attempt to privatize the plant and solve the problem of its debts to Naftogaz and Ostchem belonged to Dmytro Firtash. The adviser is given up to six months to find a way out of the situation.