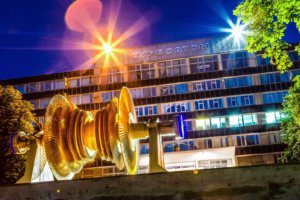 Kharkiv-based JSC Turboatom and Japanese Toshiba Energy Systems & Solutions Corporation have signed a memorandum of understanding in the field of nuclear energy, the press service of SE NNEGC Energoatom has said. The companies agreed on the beginning of cooperation aimed to implement projects of turbine equipment modernization of machine halls at nuclear power plants (NPPs), it said.
"The cooperation between Turboatom and Toshiba will be based on high potential and great experience of both companies in studying and realizing new engineering and technical solutions in the field of nuclear energy," the press service said in a statement.
According to Turboatom's CEO Viktor Subotin, his company together with Toshiba will soon determine priority projects and will be able to agree on a plan of joint actions at the 10th International Economic Forum in Kharkiv in September. "Our company implements large-scale programs for improving safety, reliability and performance of the power units at Ukrainian NPPs. I am confident that the cooperation of our partners, Turboatom and Toshiba, will contribute to the development of energy engineering in Ukraine and consequently boost the efficiency of modernization of the Ukrainian NPPs' equipment," Energoatom President Yuriy Nedashkovsky said.
"The signed memorandum is a step that gives the possibility to contribute to the uprate of energy equipment for Ukrainian NPPs as well as for nuclear energy facilities in other countries. I am really happy that Toshiba will contribute to making more complete decisions in the field of nuclear energy together with Turboatom due to the fact that our companies are leaders in NPP equipment manufacturing," Vice President of Toshiba Energy Systems & Solutions Corporation Goro Yanase said.
As reported, a memorandum of understanding in the nuclear power industry was signed between Energoatom and Toshiba Energy Systems & Solutions Corporation in October 2017 to develop cooperation on the modernization of turbines and generators at Ukraine's nuclear power plants.
Turboatom is the only manufacturer of turbine equipment for hydro, thermal and nuclear power plants in Ukraine. It exports commodities to 45 countries and regions in Europe, Asia, America and Africa.