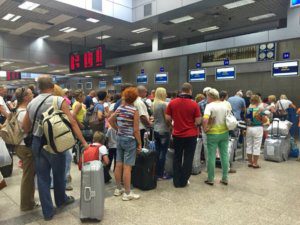 A total of 2.56 million people used services of Ukrainian tour operators in 2017, and total revenue of tour companies accounted for UAH 13.14 billion, according to a posting on the website of the Regional Development, Construction, Housing and Utilities Economy Ministry of Ukraine. According to the report, the largest number of tourists in 2017 used services of Join UP! tour operator (703,400 people, including 678,000 Ukrainians travelling abroad), ANEX Tour (453,800), and Travel Professional Group (240,700). ANEX Tour (UAH 5.53 billion), Travel Professional Group (UAH 3.27 billion) and TUI Ukraine (UAH 1.95 billion) saw the largest profit.
Among the leaders in the number of tourists are also companies TEZ Tour (233,700), Coral Travel (199,800) and TUI Ukraine (136,200); by the amount of profit seen – Kyivsky Sputnik (UAH 237 million), Siesta (UAH 173 million), Yana Luxury Travel (UAH 123.3 million), Kiy Avia (UAH 11.1.2 million), New Standard (UAH 100.3 million), Orbita (UAH 57.3 million), and Club Med (UAH 57.2 million).
In 2017, tour operators sold 1.26 million vouchers with a total value of about UAH 27.9 billion. 790,700 vouchers were sold directly to the population, of which 742,100 were vouchers for Ukrainians to travel abroad, 38,600 vouchers for Ukrainians to travel within the country, and 10,000 to foreigners for traveling in Ukraine.