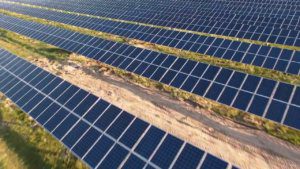 Amobi Capital (the United States) seeks to expand the capacity of its solar power plant in Bohuslav, Kyiv region, from 4.5 MW to 50 MW, the company has reported on its website. Amobi Capital said that the project is being implemented by Helios Royal Energy founded by Amobi Capital. Participants of Helios Royal Energy are investors from Saudi Arabia, Egypt and China. The ultimate beneficiary of Amobi Capital is Ugo Amobi.
As reported, Sun Green Energy LLC is building a solar power plant with an installed capacity of 16 MW in Bohuslav. In January 2018 Sun Green Energy has already commissioned the first stage of Bohuslav solar plant with a capacity of 2.28 MW, and in late February received a feed-in tariff for it.
The beneficiaries of Sun Green Energy LLC in the state register are Cypriot-based Neytvic Investments Ltd., and individuals Eduard Zavizion and Arkadiy Sokolov.
PJSC Kyivoblenergo in 2017 signed an agreement worth UAH 26.33 million with Podilsky Energy Consulting LLC for the construction of an overhead power grid of 35 kV within the existing power transmission line Temp-Yukhny for the connection of Bohuslav solar plant. It was planned to complete the work by April 2018.
Earlier the Bohuslav solar plant project was carried out by Ekotechnik Bohuslav, which is part of the Czech group Ekotechnik. The total capacity of the project is 42 MW.