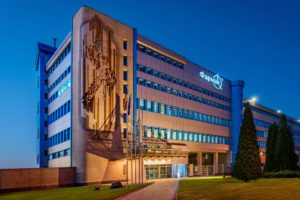 Pharmaceutical company PJSC Farmak (Kyiv) is exploring opportunities of exporting active pharmaceutical ingredients (APIs, substances). The company may ship the first batches of APIs as early as late in 2019, Head of Farmak's API Department Vasyl Kushniruk said during a press tour to the town of Shostka in Sumy region, where the company has an APIs production facility. "There are no sales today, but we plan to start selling in October this year and ship first tonnes of the substances," he said.
If necessary, Farmak may triple API output, he said. "We have premises where we are ready to deploy lines to produce APIs if there is a sales market. Over a year we can triple our planned capacity," he said. "Before last year, the company was not involved in sales of substances and we didn't plan to sell them, but we have already got several requests that showed that there is demand for the purchase of substances, in particular, in the European market, and we are studying this issue," he said.
Farmak's investment in the organization of production of APIs in Shostka in 2010-2017 amounted to $40 million.
Farmak started producing APIs at the Svema industrial park in Shostka in 2015. The production meets environmental and GMP standards. In 2018, emissions of pollutants into the air by the API production department in Shostka amounted to only 1.9 tonnes per year, which is within the established limits. Of these emissions, 99% are those from the boiler house.
Farmak's API production facility in Shostka is equipped with modern equipment and the latest air and water purification systems with a purity level of 95-99%. Its equipment was supplied by such well-known European brands as MVB and GEA. Thanks to modern sewage treatment plants of famous brands, the company's impact on the environment is minimum.
In 2017, Farmak produced about 80 tonnes of APIs.
As was reported, PJSC Farmak opened a new production site for tablet production in December 2018, investment in amounted to EUR 20 million. The site will allow Farmak to double the capacity for the production of solid dosage forms, to 3 billion units per year.
By 2023, Farmak plans to increase exports to 40%. Currently, the share of Farmak's exports is more than 25% of total sales.
PJSC Farmak is among Ukraine's top three pharmaceutical producers and is a member of the Association Manufacturers of Medications of Ukraine (AMMU).
PJSC Farmak's beneficiary is Chairperson of PJSC Farmak's supervisory board Filia Zhebrovska. She owns 80% of the company's shares.
In 2017, Farmak increased sales in the country's retail pharmaceutical market by 21% in monetary terms. Its net profit grew by 29.9%, to UAH 839.09 million.