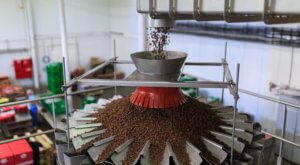 The Ukrainian producer of food for pets, Kormotech LLC (Lviv region) plans to boost pet food sales by 21.8% at the end of 2018 from a year ago, to 38.4 tonnes.
"Sales for the first half of the year increased 31.1% compared to the same period of 2017. We intend to increase sales of pet food in 2018 by 21.8% compared with last year. We sold 31.5 tonnes of products in 2017, revenues amounted to UAH 1 billion," CEO and co-founder of Kormotech Rostyslav Vovk said in an interview with Interfax-Ukraine.
According to him, at the end of 2017, the share of Kormotech in terms of sales of the Ukrainian market was 36.2%.
"Of these, our brands had 31.5%, and another 4.7% – products that we produce under a private label," Vovk said.
He said that in the third quarter of this year, the company was forced to completely suspend the plant for one week to install new equipment and two more – to work in test mode to fully configure and launch the updated production line.
"This modernization allows us to increase our capacity next year, but it has somewhat reduced our production capacity now. Therefore, by the end of 2018, we expect to keep the same position as last year, or slightly concede (no more than 1% of the market share). Next year we plan to regain the market share we had at the beginning of 2018 and keep it until the end of 2019. And in the next three years we are trying to increase it by 2-3%," the Kormotech CEO said.
Vovk said that now the production facilities are loaded in full and the company plans to increase the annual capacity to 30,000 tonnes of dry feed and 16,000 tonnes of wet feed by the end of this year.
"Now it is 28,000 tonnes of dry and 11,000 tonnes of wet feed. To better present the quantity, it is 70 million 400-gram packages of dry and 110 million 100-gram packages of wet feed," he said, adding that about 30% of imported raw materials are used to make the feed.
Kormotech exports its products to 17 countries, including France, Estonia, the Netherlands, Slovenia and Poland. The company has two plants that produce dry and wet pet feed.