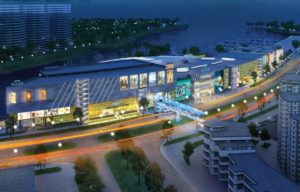 Adidas-Ukraine has rented 600 square meters of space for two stores in the River Mall shopping and entertainment center being under construction in Darnytsky district in Kyiv.
The press service of the River Mall trade and entertainment center told the Interfax-Ukraine news agency the Adidas shop will be almost 412 square meters, the Reebok store will occupy 186 square meters.
Both stores will open in new concepts for Ukraine: the design of the Adidas store will be in accordance with the concept of Stadium, and Reebok in the FitHib 2.0. concept that is new for Europe.
The facilities will be located on the second floor of the River Mall shopping center in the area of sporting goods and panoramic elevators.
"The range of goods in the stores will include modern sportswear for professional sports and outdoor activities, a total of more than 300 items," the company said.
Adidas-Ukraine was founded in 1996. It is engaged in the sale of goods for sports.
The owner of the company is Adidas AG (Germany).
The opening of the River Mall trade enter is scheduled for May 2019. The anchor tenants will be Inditex Group stores, a Silpo supermarket chain, a Planeta Kino cinema with IMAX, and a Papashon entertainment center. The specifics of the project will be a food court and an event area with an open terrace and a view of the Dnipro River.