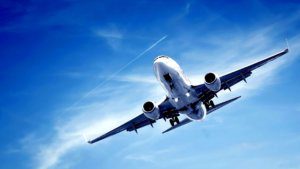 Ukraine's Infrastructure Ministry is interested in liberalizing air transportation between Ukraine and the United States.
This was announced by Ukrainian Infrastructure Minister Volodymyr Omelyan at a meeting with the U.S. Under Secretary of Transportation for Policy Derek Kan, the U.S. Transportation Department's International Aviation Director Brian Hedberg and Deputy Executive Director for the Office of International Affairs in the U.S. Federal Aviation Administration (FAA) David Burkholder as part of a working visit to the United States.
"We are ready to develop passenger air transportation with the countries and are interested in facilitating the implementation of the agreement between Ukraine and the United States on air communication. We will sincerely welcome the expansion of the presence of American airlines in Ukraine," the Infrastructure Ministry's press service quoted Omelyan as saying.
According to the press release, Omelyan said Ukraine is interested in attracting U.S. experience in the development of digital infrastructure. He discussed with his American counterparts the policy of Ukraine in the field of anti-corruption.
As reported, the Infrastructure Ministry has predicted the signing of an agreement on the Common Aviation Area (CAA) with the EU during spring 2019.
The accession of Ukraine to the common aviation space with the EU is an important step for the development of the country's aviation industry. Liberalization of airspace, first of all, will attract new airlines to Ukraine, and then increase competition in the market, which will make air transportation much more affordable.
In accordance with the Ukraine-EU Association Agreement, civil aviation is regulated by a separate agreement – Stabilisation and Association Process (SAP), which was initiated in 2013, but not yet signed. The signing of the agreement on SAP was postponed twice on the initiative of the EU side. The main reason for the delay is the lack of consensus between Spain and the UK on the wording on the territorial application of the agreement in part of Gibraltar.
In addition, Ukraine should bring the country's aviation regulations in line with EU airspace legislation.