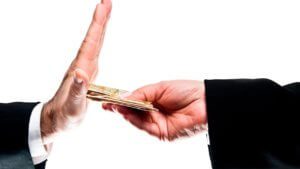 The State Export Control Service of Ukraine has designed a draft anti-corruption program for 2018-2019. According to the document posted on the website of the authority, the program is intended to create the effective corruption prevention and reveal system in the authority based on new principles of making and implementing the anti-corruption policy.
Among measures to be taken is the analysis of data in relation to corruption risks in the authority, as well as factor that give rise to it; regular monitoring of the implementation of tasks and functions by the authority with the purpose of revealing and removing conditions giving rise to corruption risks and corruption crimes.
The measures also include the provision of financial supervision through declaration of property, income, expenses of officials and employees of the authority, creation of proper conditions for receiving information from whistleblowers who exposes corruption and crimes linked to corruption and the creation of the system of their protection and keeping information in secret.
According to the analysis of corruption risks posted on the website of the authority, corruption risks with medium and high priority are the following: providing advice on processing and submission of necessary documents in the field of export control to the authority; acceleration or delay in the processing of applications of subjects of international transfers of goods to obtain permits for the right to export and import military goods; a lack of a clear procedure for investigating offenses in the sphere of state export control and a lack of authority of the relevant department to identify these offenses independently; leakage of information from electronic databases operating by the authority and other risks.