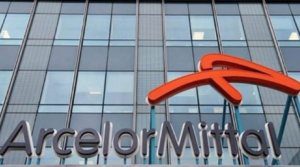 PJSC ArcelorMittal Kryvyi Rih (Dnipropetrovsk region) in 2017 received a net profit of UAH 5.062 billion, while in 2016 it amounted to UAH 2.704 billion. According to the company's announcement of an annual shareholders' meeting scheduled for April 26, retained earnings by the end of the year amounted to UAH 32.980 billion.
Over the past year, ArcelorMittal Kryvyi Rih increased current liabilities by 23.1%, to UAH 17.044 billion, but reduced long-term liabilities by 2.1%, to UAH 6.791 billion. At the same time, the plant increased debtor indebtedness by 34.7%, to UAH 22.928 billion.
The assets of ArcelorMittal Kryvyi Rih in 2017 increased by 10%, to UAH 89.063 billion, in particular fixed assets by 1.4%, to UAH 47.134 billion.
The shareholders intend to spend net profit received in 2017 on the development of production, dividends won't be accrued and paid.
ArcelorMittal Kryvyi Rih is the largest producer of steel products in Ukraine. It specializes in production of long products, in particular, fittings and wire rod.