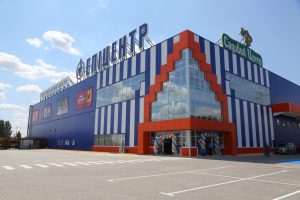 The Epicenter K company (Kyiv), which is developing a network of shopping centers of the same name and agricultural direction in Ukraine, has received a loan in the Austrian Raiffeisen Bank International AG in the amount of EUR 5.3 million for the development of e-commerce, in particular, the opening of a fulfillment center, the press service of the company said.
"The Austrian bank Raiffeisen Bank International AG will finance the purchase of equipment for the Epicenter K fulfillment center from the Dutch manufacturer Vanderlande Industries B.V.," the statement reads.
The opening of an innovative fulfillment center will provide a high level of service to online buyers, according to the company.
According to it, the credit line in the amount of EUR 5.309 million is open for five years, the interest rate is set at the six-month rate of EURIBOR plus margin. Insurance coverage is provided by the Dutch government guarantee issued by Atradius Dutch State Business N.V.
The authorized capital of Epicenter K LLC is UAH 158.6 million.
Epicenter K LLC was established in 2003. According to the unified public register of legal entities and private entrepreneurs, the participants in Epicenter K LLC are Oleksandr Hereha (51.3%), Halyna Hereha (47.9%) and Tetiana Surzhyk (0.73%).