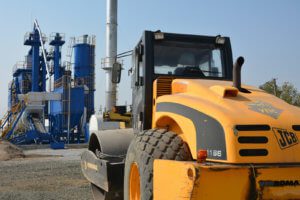 Odesa-based Automagistral-Yug has launched an asphalt concrete factory in Novomoskovsk, Dnipropetrovsk region, the company's press service has reported.
According to the report, the factory is the 15th production facility of the company in Ukraine and the fourth in Dnipropetrovsk region.
"The factory in Novomoskovsk is built at our industrial base. We have completely restored our facility – we have overhauled and equipped a dormitory for 120 people, renewed the railway tracks, the laboratory and the repair base. About UAH 60 million was invested in construction of the factory. The total investment in production facilities in Dnipropetrovsk region is approaching UAH 150-170 million over the past few years," Director General of Automagistral-Yug Mykola Tymofeyev said.
According to the company, the production capacity of the factory in Novomoskovsk is 240 tonnes of asphalt per hour. The new enterprise will allow the company to implement the construction of high-speed highway H-31 (Dnipro-Kobeliaky-Reshetylivka). According to the director general, the company began work on the highway last year and should build 57 km of the first category road with four lanes within several years.
Automagistral-Yug LLC was registered in 2006. According to the company's website, it owns 10 factories producing asphalt mixes, eight own production bases of the construction divisions of the enterprise in six regions of Ukraine.