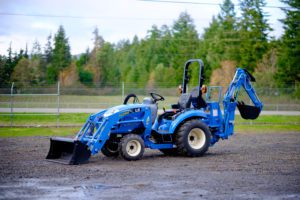 Zaporizhia Automobile Plant (ZAZ), part of the UkrAVTO Corporation, has started producing a pilot batch of LS Mtron tractors to study the process of production and demand, Spokesman of the Corporation Dmytro Skliarenko has said. "The creation of a joint venture with the manufacturer is not being discussed yet," he told Interfax-Ukraine.
The corporation does not disclose other details of the project. As reported, in autumn 2017, the UkrAVTO Corporation, the leading player on the Ukrainian automobile market, was studying consumer demand on tractors of South Korea's LS, which has not yet been presented in Ukraine. UkrAVTO presented these tractors at the AGROEXPO 2017 exhibition held in Kropyvnytsky.
The company said that this step looks completely logical and justified, since the agricultural sector begins to show upward pace and has a great potential and prospects for larger development.
Later the distribution agreement with LS company was signed. LS is the exclusive supplier of tractors under the governmental agriculture development program in South Korea.
According to experts, according to their characteristics, LS are direct competitors of the most popular MTZ Belarus tractors in Ukraine.
UkrAVTO intends to stake in Ukraine on two models of LS tractors: V-series with a capacity of 70-80 hp and H-series with a capacity of 110-140 hp. The LS tractors' price starts from $38,000, and the price of the most powerful is $70,000.
At the same time, ZAZ, at present, amid the crisis in the automotive industry in Ukraine, has stopped the production of passenger cars.
UkrAVTO was registered in 1992. It holds a controlling stake in CJSC ZAZ and Poland's FSO. The corporation includes over 400 car servicing enterprises in all Ukrainian cities, distribution and dealer companies of the leading car brands and the filling station network.