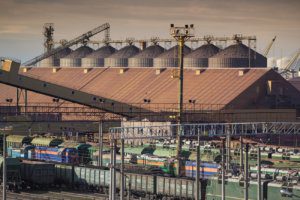 SD Capital investment company, founded by the co-owner and Director General of the TIS port (a stevedoring company operating at the Yuzhny port) Andriy Stavnitser and TIS manager Filip Hrushko, is ready to invest in some projects not in the field of port business. "We are ready to invest not only in the port business. This vehicle, in Russian – a tool for investment, was created by Hrushko and me a little more than a year ago. There are about 15 projects in the pipeline today, but this does not mean that they will all be implemented: three or four may be left, and maybe even one. Let's see," Stavnitser said in an interview with Interfax-Ukraine.
According to him, the projects can be very different: the automotive industry, agriculture and natural resources.
"I would probably be happy if we made five of these projects in the next 18 months," Stavnitser said.
Speaking about the fields of projects, he said that 70% of these projects concern food security and processing.
"This is the production of meat, dairy products, vegetables and fruits, berries, honey – simply everything is there! I think the world of those people who banned the export of sunflower seeds many years ago. Thus, the industry of oil refinery appeared," the head of the TIS port said.
He also said that SD Capital is ready to act as a private equity investor, to buy and develop assets.
"We rely on our money, money of our friends and family, our old business partners who can also co-invest. And, of course, we want to see strategists here. The more strategists are in this country, the less space remains for corruption and more space for good lobbying and support of the best Western practices," Stavnitser said.
Among other things, talking about the employees of SD Capital, he said that today 15 people are working.
"It's normal. There should not be a lot of people. We have a good team. The average age is about 25 years old: all young, funny and interesting. An American girl recently joined us, who fell in love with the Ukrainian IT specialist and she moved here. She has a lot of experience. We have a lot to learn from her, because here all the experts are still homegrown, and there the traditions are completely different," Stavnitser said.