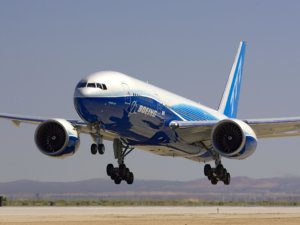 Ukraine International Airlines (UIA) on May 4 expanded its fleet with second long haul widebody Boeing 777-200ER plane. The press service of the airline reported that it was officially registered in Ukraine under the UR-GOB registration number.
Boeing 777-200ER aircraft accommodates 361 passengers in three-class seating configuration, i.e. Business Class, Premium Economy Class, and Economy Class. UIA expects to operate the UR-GOB aircraft under a contract with AerCap which envisages the delivery of two more Boeing 777-200ER in 2018.
"The aircraft is equipped with Panasonic Corporation individual IFE system. Every seat is equipped with personal screen with a vast content menu, including feature movies, TV shows, a variety of Ukrainian movies, movies for children and cartoons. The content is available in several languages, Ukrainian, English, Chinese, Russian, French, Hindi and other languages," the UIA said.
Moreover, passengers will be able to track the aircraft in real-time mode by using the interactive touch-sensitive 3D-map with 3D globe image, 100 city guides, including 20 cities of Ukraine, Kids map – Animals App, and other information.
USB-units and electrical power sockets are installed in all cabins with Wi-Fi connectivity available during the flight.
The aircraft is equipped with Bruce Aerospace Sky Interior modern lighting system which is customized so that the lighting regime changes according to natural environment.
Two more Boeing 777 aircraft are scheduled to arrive in Q2 – Q3 2018.