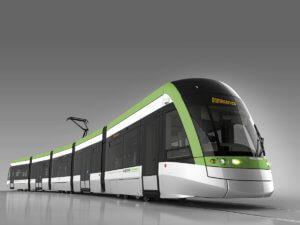 Canada's Bombardier Transportation, the manufacturer of railway solutions, is ready to take part in a tender to supply electric locomotives for JSC Ukrzaliznytsia, Ukrainian Infrastructure Minister Volodymyr Omelyan has written on his Facebook page. "Everyone is waiting for the tender of Ukrzaliznytsia, in which not only Alstom, but also Bombardier and Chinese companies are ready to take part. Given the complete deterioration of Ukrainian locomotives, there is no place to delay further," he said, summing up his visit to France last week.
Earlier in Ukrzaliznytsia said that Alstom and CRRC, Siemens and Skoda showed their interest in this project.
As reported, in November, the International locomotive building conglomerate Skoda Transportation opened the first official representative office in Ukraine in Dnipro.
GE Transportation and Kriukov Car Building Works in early June 2018 signed an agreement to localize the production of 30 TE33A Evolution series locomotives. Ukrzaliznytsia received the first diesel locomotives at the end of 2018.
The framework agreement between Ukrzaliznytsia and GE, signed early 2018, provides for 15 year partnership in upgrade and modernization of traction fleet, the first stage of which is supply of 30 new diesel TE33AC locomotives to Ukrzaliznytsia in leasing with 10% localization level.