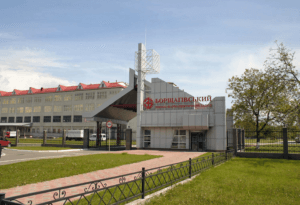 PJSC Borschahivsky Chemical and Pharmaceutical Plant (Kyiv) in 2017 began exporting its products to Australia, Estonia and Portugal, the press service of the plant has reported. At present, the plant's products are exported to 19 countries, including Lithuania, Latvia, and the CIS countries. At the same time, the share of exports in total sales in 2017 was 12.2%.
"In 2017 the company exported products worth UAH 152.3 million, which is 37% more than in the previous year," the report said.
As reported, in April 2018 the Credit-Rating agency raised the long-term credit rating of the plant to the level of uaAA+ with a stable outlook.
Earlier, the plant announced its intention to expand the portfolio of veterinary drugs and biologically active additives.
PJSC Borschahivsky Chemical and Pharmaceutical Plant is one of the top 20 largest pharmaceutical manufacturers in Ukraine. It is a member of the Manufacturers of Medications of Ukraine Association.
AUSTRALIA, BORSCHAHIVSKY PHARMACEUTICAL PLANT, ESTONIA. PORTUGAL, NEW MARKETS