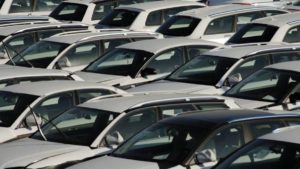 Primary registrations of new passenger cars in Ukraine in January-August 2019 grew by 2% year-over-year, to 54,600, the Ukrautoprom association has reported.
Sales growth in August of this year by 12.5% compared to August of 2018, to 8,300 cars, contributed to the positive pace over the January-August period.
"This is the best result for the domestic market over the past 19 months," the association said.
The leader of August – Renault – improved the result of the same month by 44% to 1,422 cars, Toyota ranked second, registrations of which grew by 20% to 1,175 cars, and the KIA brand moved up to the third position with sales growth of 71%, up to 817 cars.
Skoda was fourth with 601 cars sold (a rise of 49%), and Nissan maintained fifth position despite a 5% drop in sales (to 472 cars).
Ukrautoprom said that over the past summer season in Ukraine, 22,400 new passenger cars were registered.
Meanwhile, the AUTO-Consulting information and analytical group, analyzing car sales last month, said that sales growth amounted to 6.3%, to 8,200 cars, even compared to the successful July of 2019, and compared to August 2018, they grew by 19.8%.
The top three of the month at AUTO-Consulting coincides with Ukrautoprom's, and the group's sensation of the month is Peugeot's breakthrough in eighth place (11th in July), with a 25.4% increase in sales, to 247 vehicles compared with July 2019.