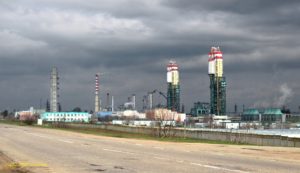 Odesa Port-Side Chemical Plant, which in recent years during the crisis has been working mainly on tolling, in 2019 increased production of carbamide by 82.1%, to 324,600 tonnes, but reduced production of ammonia by 78.7%, to 29,900 tonnes.
"Last year, 2.549 million tonnes of ammonia were exported, of which 18,600 tonnes of own production, in particular 352,300 tonnes of carbamide, of which 288,500 tonnes of own production," the company reported.
According to the report, 76,800 tonnes of ammonia were shipped to domestic consumers, of which 3,400 tonnes of domestic production, as well as 3,600 tonnes of carbamide.
In accordance with the plant's report for 2018, some 2.170 million tonnes of ammonia and 178,300 tonnes of carbamide were handled that year.
Odesa Port-Side Chemical Plant manufactures chemical products, as well as transports chemical products to maritime transport. The state, represented by the State Property Fund, owns 99.5667% of the plant's shares, while 0.0021% is owned by Concorde Capital LLC, other individual shareholders hold 0.4312%.