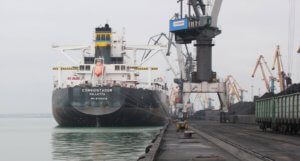 Freight handling at Ukrainian seaports in January-May 2018 totaled 54.3 million tonnes, which is 2.13% less than a year ago, according to data from the Ukrainian Sea Port Authority.
According to its data, the volume of transshipment of imported cargo increased by 16% and amounted to 9.05 million tonnes.
The volume of transshipment of exported cargo decreased 7.35%, to 39.71 million tonnes. Handling of transit freights rose by 11.2%, to 4.824 million tonnes and handling of coastal freight rose by 49.3%, to 714,730 tonnes.
Transshipment of liquid freight fell by 9.78%, to 4.3 million tonnes, that for bulk freight – by 8.35%, to 36.95 million tonnes and for packaged cargo grew by 25.5%, to 13.05 million tonnes.
Container flow at Ukrainian seaports in January-May 2018 grew by 36.9%, to 325,035 TEU, and processing of containers in weight rose by 34.4%, to 4.274 million tonnes.
In general, the seaports of Ukraine processed 4,855 vessels in January-May 2018, including 1,026 in May.
The decline in cargo turnover is attributed to the reduction in grain handling by 4.9%, caused by unfavorable prices for it on the global market in this period, as well as a 15.5% decrease in ore turnover due to a decrease in ore mining by ore-dressing plants, the authority said.
"The upward pace of imports continue to be recorded for the following cargo: ore (17.8% up), transshipment of which amounted to 3 million tonnes and coal – 2.4 million tons (4.1% up), the largest increase in imports showed ferrous metals (18% up) – 6.8 million tonnes, including 4.1 million tonnes of rolled metal (4.1% up) and 1.3 million tonnes of pig iron (85.5% up)," the authority said.
During the reporting period, 3,130 ship journeys were made on the Dnipro River, which is 287 journeys, or 8.7% more than a year earlier.
A total of 316,800 tonnes of metal products were transported along the Dnipro (6.2% growth compared with the corresponding period of 2017), as well as 683,600 tonnes of grains (a decrease of 7%), 17,300 tonnes of oil products (an increase of 5.2%) and 902,000 tonnes of construction materials (an increase of 24.3%) and other goods.