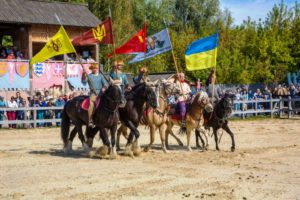 On June, 28, 29 and 30 «The Kyivan Rus Park» invites to celebrate the Constitution Day of Ukraine in a place where our statehood was born, and to spend the holidays and weekends in fresh air with thrilling medieval amusements, horse-trick shows, horse riding and tasty dishes prepared on a bonfire.
To the Constitution Day of Ukraine, on June, 28 the citizens of Ancient Kyiv have prepared an interesting program with theatrical stagings on the ancient Slavic theme and horse-trick performances. Till very evening there will be a possibility for the visitors to actively participate in the merry medieval amusements.
On June, 29 and 30 the «Historical Fashion» ethno-festival will take place in Ancient Kyiv. During these days the guests will see a wide variety of historical costumes – from an ordinary citizen to the great prince and princess. Combat ammunition will also be demonstrated, the armor and weapon of different epochs and nations: from Scythians to Cumans, Hungarians, from the legendary Amazons to the knights of the Medieval Europe.
Also the traditional horse ammunition will be shown to the guests. In these days the demonstrative performances on the medieval weapon possession on horseback and on the combat trick riding.
Also the visitors will see the horseback archery tournament: on a horseback at full gallop the sportsmen will compete in the real medieval archery accuracy.
The bright show with the fire balls shooting from the Trebuchet – the only working siege weapon in Ukraine will be the culmination of the holiday program on June, 28 and 29.
Ancient Kyiv opens at 10:00. The program starts at 13:30.
The ticket price: a full adult ticket – 200 UAH, for pensioners and students – 150 UAH, for schoolchildren – 60 UAH, for preschool children – for free.
Ancient Kyiv in the «Kyivan Rus Park» is located in Kyiv region, Obukhiv district, the vill. Kopachiv.
Route taxis leave from Kyiv from the «Vydybitchi» metro station.
Details on the website www.parkkyivrus.com
The Interfax subscribers can save money with the "openbusiness-20" promo code for a 20%-discount for a full price adult ticket to the Principality of Kyivan Rus:
– by previous order by tel.: +38 044 461-99-37, +38 050 385-20-35
– or at the cash desk at the entrance to the «Kyivan Rus Park».