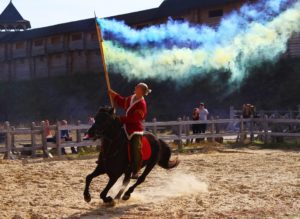 On October, 12, 13 and 14 near Kyiv, in the «Kyivan Rus Park» a large-scale and spectacular celebration of Pokrova and the Defender of Ukraine Day will take place.
The wonderful medieval architecture and, in addition, an entertaining program, museums, master-classes and amusements will be waiting for the guests of Ancient Kyiv.
The action will start with the solemn parade of the flags of the Kyivan Rus princes, horse lava and the appearance of the Kyivan prince Volodymyr the Great himself. On Sunday and Monday, October, 13 and 14 the guests will be invited to take part in the solemn procession to the st. Basyl's church, the reconstructed wooden temple of the Х century.
The program will continue with theatrical stagings on the Kyivan Rus theme, the performances of the horse-trick theatre and the folk groups, demonstrative fights on swords of the princely druzhinniks and also the competitions of the horseback archers.
Till the very evening the guests will be surprised with the medieval amusements. The guests will get a chance not only to observe the action but to take part in it by participating in merry games and competitions, games and fiery round dances.
Ancient Kyiv opens at 10:00. The program starts at 13:30.
The ticket price: a full adult ticket – 200 UAH, for pensioners and students – 150 UAH, for schoolchildren – 80 UAH, for preschool children – for free.
Ancient Kyiv in the «Kyivan Rus Park» is located in Kyiv region, Obukhiv district, the vill. Kopachiv.
Route taxis leave from Kyiv from the «Vydybitchi» metro station.
Details on the website www.parkkyivrus.com
The Interfax subscribers can save money with the "openbusiness-20" promo code for a 20%-discount for a full price adult ticket to the Principality of Kyivan Rus:
– by previous order by tel.: +38 044 461-99-37, +38 050 385-20-35
– or at the cash desk at the entrance to the «Kyivan Rus Park».