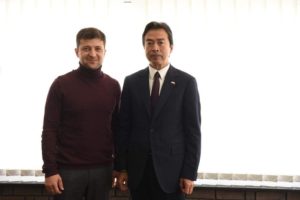 Ukraine's President Volodymyr Zelensky has met with Chinese business representatives to discuss investment and the two sides made a preliminary list of joint projects with a potential investment of around $10 billion.
"The meeting attendees made a preliminary list of projects with an investment potential of around $10 billion, which Ukraine is planning to implement jointly with Chinese companies of private and public ownership. The projects will be coordinated by the national investment board led by the president," the presidential press service said.
"We spend a lot of effort to attract investors to Ukraine. We are ready to protect investments. That requires a new parliament and government as well as our desire," Zelensky told his guests.
He offered to discuss the potential investment in infrastructure development, agriculture and gas field development in Ukraine.
"One issue is to build a concession road around Kyiv," Zelensky said.
For their part, representatives from a Chinese state corporation, which specializes in building military infrastructure, told about projects they could implement in Ukraine at their expense.
Representatives from a private Chinese company, which owns one of the world's top 500 biggest banks, suggested a number of projects on infrastructure, agriculture, energy efficiency and financial services.