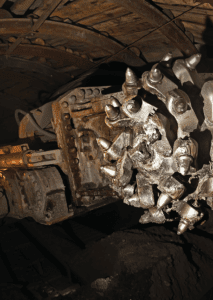 Corum Group has signed contracts for supply five tunneling machines for Polska Grupa Górnicza (PGG) and Jastrzębska Spółka Węglową (JSW, both based in Poland) for the total amount of PLN 22.8 million (EUR 5.3 million), which the companies will lease for three years.
The press service of Corum told Interfax-Ukraine that the first tunneling machine, intended for JSW, in August will begin operations at the Szczyglowice mine.
A number of modifications have been made to the design of the mass model of the tunneling machines in accordance with the requirements of the customer for maximum adaptation to the conditions of the customer mine. It is equipped with a 150 kW engine and a sector irrigation system for suppressing dust in the face and preventing sparks from working in the face.
"Our tunneling machines have proven themselves at the coal mining enterprises of Poland, working here since 2013. We put the first tunneling machine on the Polish market for JSW, and it has been successfully operated to this day," the press service of the Corum Group reported, citing CEO Mykhailo Potapov.
The tunneling machine for JSW is supplied with additional equipment, which includes belt conveyor, power train, pumping unit, data transmission system, visualization and monitoring system. Terms of the contract also include comprehensive maintenance of machinery.
Corum intends to deliver another four tunneling machines to the company Polska Grupa Górnicza. One of them for the RUDA mine is scheduled for shipment by the end of September this year, the next three for the Bolesław Śmiały mine between June and September 2019.
Corum Group unites the machine-building assets of the SCM financial and industrial group. In 2017, the company's share of exports increased to 41%. The key countries of presence are Russia, Kazakhstan, Poland, Vietnam and Estonia.