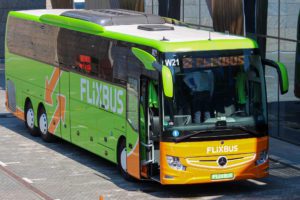 The German low cost bus carrier FlixBus has started cooperation with the Ukrainian company Regabus, launching trips from Odesa via Prague to Plzen (the Czech Republic). According to FlixBus Director for Poland and Ukraine Michal Leman, the trips will be operated by branded buses in a branded green livery.
"Regabus has been on the market for 25 years. We specialize in transportation between the Czech Republic and Ukraine. We were the first to support the standards that FlixBus represents – Euro6 buses," a Regabus representative commented on the start of cooperation with FlixBus.
The launch of the new route is scheduled for December 11, 2019. Buses will run five times a week and ride through Uman, Vinnytsia, Khmelnytsky, Ternopil, and Lviv. In addition, there will be stops in Krakow (Poland), Olomouc and Brno (the Czech Republic).
Leman also said that in 2020 the company plans to increase the number of routes to Poland, Germany, the Czech Republic and Hungary, as well as open new routes to southern Europe and the Baltic countries.
FlixBus is a German company developing bus transportation in Europe and the United States, founded in 2013.