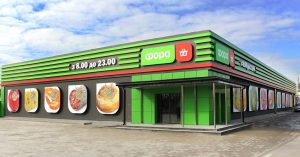 The Fora supermarket chain expects that in 2021 the number of orders from the chain's retail outlets through delivery services will double in comparison with the results of 2020.
"We believe that delivery and express delivery from retail next year will double compared to this year. According to our vision of the market, the number of purchases with small and medium check will grow especially rapidly," Director for Digital Technologies at Fora Yevhen Trishyn said at a briefing last week.
He also said that Fora has stores in Kyiv, which provides almost full coverage.
"We have several bricks-and-mortar stores in the center of Kyiv, where the turnover through Glovo reaches 10%. This is a very good, serious indicator after six months of working through one digital service. And we expect that the number of such stores will only grow," Trishyn said.
According to General Manager of Glovo in Ukraine Dmytro Raskovsky, the service has already outstripped other delivery services from supermarkets in terms of the number of deliveries.
"According to our estimates, if we compare the number of deliveries from supermarkets in our country and that of any other player on the market, we are now number one. Most of the large retail chains are already working with us. Of the large chains, we now only lack ATB… We have also more coverage and more partners than any other delivery service," Raskovsky said.