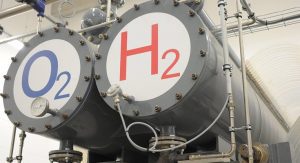 Acting Energy Minister Olha Buslavets intends to sign in Germany a memorandum on a new energy partnership, providing for the development of hydrogen technologies in Ukraine, said chairman of the Ukrainian Hydrogen Council Association Oleksandr Repkin.
"On August 25-27, head of the Ministry of Energy Olha Buslavets will visit Germany, where it is planned to sign a memorandum on a new energy partnership, of which hydrogen energy is a part. Ukraine is going there to propose certain pilot projects with a scale of 100 MW, similar to the project being implemented in Morocco – a solar-hydrogen plant with a capacity of 100 MW,"Repkin said during an online discussion on the prospects for the development of hydrogen energy in Ukraine, organized by the energy committee of the Ukrainian Venture Capital Association on Tuesday.
He said Germany considered that it would not have enough of its own resources for the production of renewable hydrogen, therefore it considers Ukraine as a partner for obtaining this resource.
He also announced on August 14 the first meeting of the expert working group under the Ministry of Energy under his leadership, at which, in particular, the issue of adapting Ukraine's energy strategy regarding hydrogen technologies will be considered.
"We are starting concrete steps to keep up with the EU countries," Repkin said.
He also noted that according to the European Hydrogen Strategy, recently presented by the Executive Vice-President of the European Commission Frans Timmermans, Europe regards Ukraine as a partner, but it is necessary to develop the internal hydrogen market for this.
"In Europe, they see us as a 10GW partner. What does this mean? There is such an opportunity, and they will support us. But there is one thing, which is not spelled out, but it is said. They will support only those countries that create an internal hydrogen market in their country. "Timmermans made it clear: friends, we are ready to help you with 7.5 GW so that you create and import them, but for 2.5 GW you must create your own market," Repkin said, noting that by the end of 2023, "We are expected to half a million tonnes of import of renewable hydrogen, and in the future – 3 million tonnes annually."
According to him, in order to enter the European market in Ukraine, conditions must be provided, in particular for the use of hydrogen transport, there must also be the use of hydrogen in the metallurgical and chemical industries.
He said that in Ukraine there is already an example of the construction of the first hydrogen filling station in partnership with the Danes.
"Entrepreneurs from Kharkiv have joined our association. Their idea is to convert all public transport to hydrogen," said the head of the association.
At the same time, he predicted that the development of hydrogen technologies in the country will proceed more actively than expected.
As reported, Ukrainian Foreign Minister Dmytro Kuleba said that Ukraine can become a reliable supplier of hydrogen to the EU, in particular to Germany.
In July, the European Union adopted a strategy for the introduction of renewable hydrogen. It involves the addition of an integrated energy system with a massive industrial production of renewable hydrogen. It can serve as a source of energy where the use of electricity is difficult. In the future, it will be produced mainly using wind and solar energy.